2021 Small Business Trends and COVID-19
A look at how the coronavirus pandemic has affected the state of small business
Small Business Trends and COVID-19: 2021
To learn about small business and its future, Guidant Financial became a founding member of the Small Business Trends Alliance (SBTA), a group of companies dedicated to supporting small businesses with data trends and insights. To achieve this goal, Guidant Financial and SBTA companies surveyed over 2,400 small business and franchise owners nationwide.
We asked current and aspiring business owners to share how their businesses are faring during the pandemic, what mitigating steps they took, how they feel about the government's response, and more. Here is a look at how COVID-19 has changed the landscape of small business in America and what business owners are doing about it.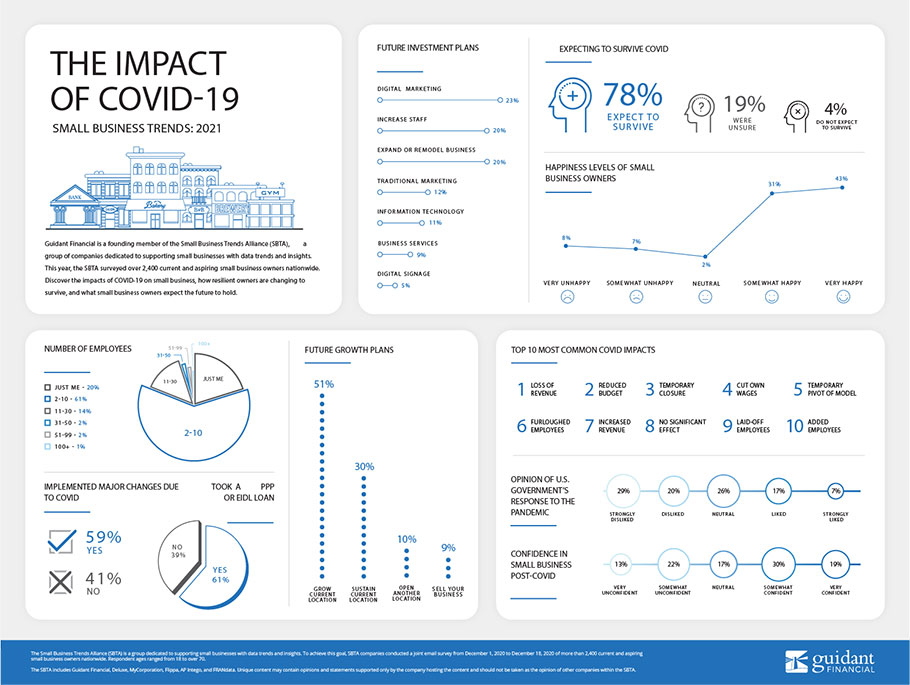 Small business Takes a Hit
2020 has been challenging for small business in the United States: A third-quarter Yelp Economic Impact Report showed that over 160,000 businesses on Yelp had closed during the pandemic, with a significant amount of them closing permanently. Economists are also estimating it will take up to four years to recover the 22 million American jobs that were lost since March.
Some industries were hit harder than most. The top three industry categories in which business owners reported not being profitable in 2020 were Food and Restaurant (14 percent), Health, Beauty and Fitness (12 percent), and Retail (11 percent). Industries that thrived during the pandemic included, unsurprisingly, healthcare, business services, and home improvement.
Regardless of industry, few businesses were unaffected by COVID-19. When asked how the pandemic had affected their business, the most common response (23 percent of respondents) was loss of revenue. The second-most common affects to business were temporarily closing (11 percent) and reducing budget (11 percent), while 10%of owners cut their own salaries.

Lackluster Government Response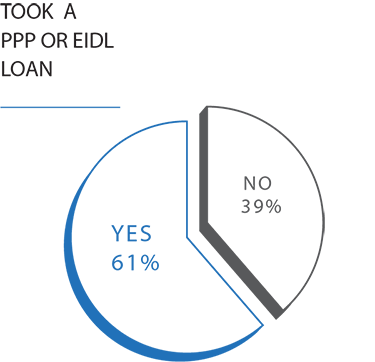 The U.S. government's small business pandemic relief included the Paycheck Protection Program (PPP) and Economic Injury Disaster Loans (EIDL). The PPP loan was passed as part of the CARES Act, which made $349 billion available to small businesses negatively affected by the pandemic. This loan was originally intended primarily to give business owners enough money to retain and pay their employees.
EIDLs were designed to help businesses recoup losses sustained during a disaster and are typically only available to businesses in counties where the state governor has declared a disaster area. Given the global pandemic, they're now available to businesses in all U.S. states and territories. Unlike the PPP loan, EIDLs are focused not on payroll but "normal operating expenses" like rent, utilities, and healthcare benefits.
While 61 percent of the business owners we surveyed received funds from one or both of these programs, the general sentiment seems to be that the response wasn't enough. Nearly half of business owners (49 percent) disliked or strongly disliked the government's response to the pandemic. A quarter reported feeling neutral, while just 24 percent liked or strongly liked it.
Note: On December 27, 2020, Congress passed the Economic Aid to Hard-Hit Small Businesses, Nonprofits, and Venues Act, adding $900 billion in COVID-19 relief and expanding the PPP and EIDL programs. The Small Business Trends survey was conducted before this bill passed.
Similarly, only 41 percent of respondents reported feeling somewhat or very confident about small business in today's political climate. When asked which political party they belong to or feel most closely represents them, 37 percent of business owners selected Republican and 23 percent Democrat. However, a full 31 percent reported they do not feel represented by any political party.
Despite these political affiliations, the plurality of business owners – 43 percent – voted for Biden in the 2020 election, while 42 percent voted for Trump. The remaining 15 percent responded other, which includes respondents who voted for Libertarian candidate Jo Jorgensen or chose not to vote at all.
Small Business Owners Take Matters into Their Own Hands
Whether they approved of the government's pandemic response or not, business owners don't tend to let others control their futures. In point of fact, the plurality of respondents, 29 percent, became business owners specifically because they wanted to be their own boss. It therefore comes as no surprise that many took matters into their own hands, pivoting from standard business models and implementing innovative changes.
Many of these changes now seem commonplace, such as adding COVID safety measures, moving to remote work, and utilizing delivery services and curbside pickup. One hotel owner who implemented specialized cleaning between each cabin booking said, "I thought it would drop revenue because of fewer available nights, but I think guests stay with us more now because of it."
Many others shifted the focus of their company altogether. Some others switched to manufacturing personal protection equipment (PPE), which has been at a premium throughout the pandemic. A salon owner teamed up with other small businesses, creating curated boxes that included hair products, wine, at-home facials, coffee, and more.
One thing is clear: keeping the proverbial doors open meant "a lot of pivoting" to "follow [government] directives while still providing outstanding service." Many owners didn't just pivot their business but also made personal sacrifices. One respondent reported cutting their personal salary "100 percent in order to employ as many people as possible."
This flexibility may help explain how, even in the midst of a global pandemic, 63 percent of businesses reported being profitable. Given the pandemic and political upheaval of 2020, the fact that this represents a relatively small 19 percent year-over-year drop is a testament to the resilience of American small business owners. And even more impressive? A full 78 percent of business owners expect their business to survive the pandemic.
Looking to a Future After COVID
One thing is clear: American small business owners are resilient. Despite the heavy blows of Coronavirus, more business owners feel confident moving into 2021 than don't. Forty-nine percent reported feeling somewhat or very confident about the small business landscape post-pandemic, compared to just 35 percent who are somewhat or very unconfident. Just 17 percent remain neutral.

And they're ready to put their money where their mouths are, with 51 percent planning to grow their current location in 2021 and another 10 percent opening an additional location. 30 percent will sustain and fortify their business this year. How do these businesses intend to grow? Over half plan to invest in digital marketing, while 49 percent of the share said they would both increase staff and expand or remodel their business.
There's no question that 2020 was one of the most difficult years for small business in American history. And yet, respondents continue to enjoy business ownership: a full 74 percent of business owners reported being somewhat or very happy as business owners in 2020, down only two percent from the prior year.
The future of small business is bright, thanks to the determination and resilience of American small business owners.
Ready to use your retirement funds to start your business?
Don't have any more questions about ROBS? Great, let's get the process started today!