The small business funding landscape has a variety of options to choose from. Take a look at each of them in comparison to Rollovers for Business Start-ups, to make an informed decision for your business.
Why Rollovers for Business Start-ups is a Great Funding Option
If you have read the previous chapters in this guide, you now know that ROBS is a unique funding option for prospective business owners – but how does it compare to other financing options?
First and foremost, outside of obtaining funding through friends and family, crowd funding or providing the cash yourself, ROBS is the only option to buy or start a business debt-free, collateral-free, interest-free and credit check free.
Download the Guide
Download the Complete Guide to 401(k) Business Financing – you can save it for later or print it at your leisure.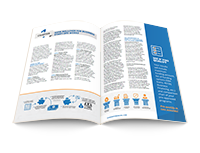 How is ROBS debt-free?
While traditional loans require you to take on debt in the form of monthly payments, ROBS allows you to use money you already have in your retirement account. This means in the crucial first few years of the business, you can focus your time and resources on growing your new business without the burden of debt. You can pay for your staff, rent and supplies with money in the bank instead of depending on borrowed money. No monthly payments are needed — allowing you to realize full revenue potential right out of the gate.
How is ROBS collateral-free?
ROBS does not require you to sign over your house, put up a down payment or sign away your life in any way to get funded. The only thing you need for ROBS is a qualified retirement account such as a 401(k) or IRA account.
Traditional loan options, such as an SBA Loan, require a down payment and frequently collateralize your home in order to obtain the loan. Similarly, with Portfolio loans you are required to collateralize your stock portfolio.
How is ROBS interest-free?
ROBS does not incur an interest payment like a loan…because it's not a loan. As a part of the ROBS structure, the injection of funds into your business comes from the process of your retirement account buying shares in your business. This transaction is viewed like any other stock investment where you wouldn't be expected to pay interest.
This is another valuable component of ROBS in that you do not have to pay to borrow money like you would for a loan because you are instructing your account to invest in your business.
How can you access funds without a credit check?
Because ROBS is not a loan, no one is evaluating your likelihood to pay the money back, and there is no requirement to check your credit worthiness.
ROBS is one of the only funding options outside of friends and family that does not take into account your credit profile. Most of our clients seeking business funding have credit scores on the higher side, but bad credit does not mean you aren't a fit for the ROBS, or for that matter, becoming a business owner.
What are my other options for funding a new or existing business or franchise?
If you don't want to use your retirement funds to launch your business debt-free, and you don't have friends, family or Angel investors to provide cash, there are still other options at your disposal.
Below is a quick overview on several other financing options with links to more in depth details on each program:
Small Business Administration Loans
Small Business Administration (SBA) loans offer a practical method of small business financing for entrepreneurs looking to start, buy or expand a business. You can use the funds to purchase real estate, cover construction costs or to use as working capital.
SBA small business loans offer attractive repayment terms and low interest rates. These loans are typically not directly from the SBA. Rather, the SBA encourages banks to lend to small business owners with preferable terms and multiple loan options. In return, the SBA guarantees 75 to 85 percent of the loan for the bank if the loan defaults.
Guidant offers consulting services and packaging assistance for both SBA 7(a) loans and working capital loans.
To See if you qualify, apply here
Unsecured Loans
Many financial institutions are hesitant to offer loans without having some type of collateral — a car, boat, property, etc. But unsecured loans can provide $10,000 – $150,000 in small business financing without personal collateral required from the business owner. What's more, the funding process is fast — most deals close within weeks.
Rather than relying on personal assets such as a car, boat or home to secure the loan, unsecured lenders look exclusively at a borrower's credit worthiness to determine eligibility, making those with high credit scores and a long, solid credit history the best candidates for an unsecured business line of credit.
Since there's no collateral requirement, the approval process is quick and straightforward, making unsecured loans a great option for business owners who need funding quickly. To meet eligibility, you need a minimum credit score of 690, credit utilization below 50 percent and a clean credit report with minimal inquiries. Unsecured loans are a great fit for borrowers looking to fund a wide range of project sizes, starting at $10,000.
To See if you qualify, apply here
Portfolio Loans
If you own stocks, bonds, mutual funds or other eligible securities, you can borrow up to 80 percent against the value of your portfolio without having to liquidate your holdings. Portfolio loans, also referred to as stock loans or securities-based lending, work like a revolving line of credit — allowing you to finance a business or franchise by borrowing (and repaying) at will.
To See if you qualify, apply here

More options?
There are other options in the mix, though some require very high credit scores and limited funding caps. We dive into these in-depth in our Complete Guide to Small Business Funding Options.
Here you will find in-depth details on these funding options:
– Crowd Funding
– Bootstrapping
– Venture Capital
– Personal Investment Contracts
– Mortgage/HELOC's
– Seller Financing
– Factoring
– Fintech
– Grants
– And More!