So, the business of your dreams is finally within your reach. Maybe you've even arranged your financing so all that's left is to research what it takes to run a successful operation. Part of that research is investigating the most common small business problems that arise during the first few years so you can circumvent them.

Guidant Financial teamed up with LendingClub to survey more than 2,600 current and aspiring business owners nationwide to find out the most common problems entrepreneurs face. From lack of capital/cash flow to difficulty navigating federal regulations, here are the 7 most common small business problems and how you can overcome them.
Small Business Problem #1: Lack of Cash Flow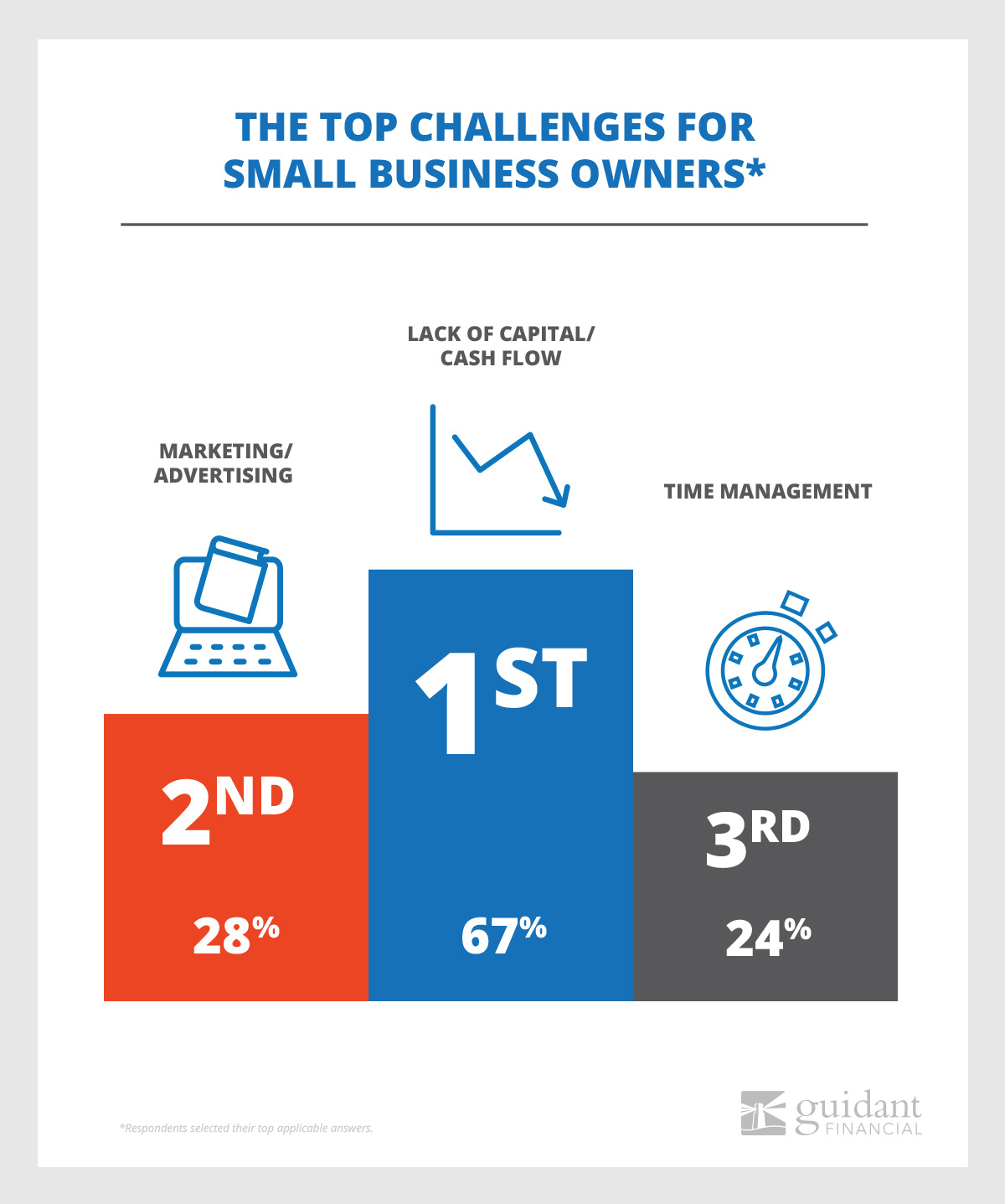 You can never have too much – but you can certainly have too little when it comes to money. In fact, nearly 67 percent of current small business owners reported lack of capital as a top challenge, according to Guidant's State of Small Business report. What's more, in an Inc. article titled "Entrepreneurs Share Their Biggest Challenges in Growing a Business" one entrepreneur even notes, "Typically entrepreneurs have easy access to capital when they do not need it and have a more difficult time when they need it the most." So what's a cash-strapped entrepreneur to do to avoid this pitfall?
The solution: There are plenty of solutions out there to help existing business owners access additional capital. Maybe it makes fiscal sense for you to try 401(k) business financing, an alternative yet increasingly popular choice for many entrepreneurs. With this funding vehicle, you can use your eligible retirement funds for your business and not incur any tax penalties or additional debt. Or maybe a more traditional business loan from the Small Business Association could help. They offer up to $5 million in capital for new and existing businesses with low interest rates.
If you don't want or need to go the financing route, there are a few guidelines you can implement to keep more of your hard-earned cash in your pocket. An Entrepreneur.com article titled "How to Better Manage Your Cash Flow" cites a few simple tips such as projecting cash flow for the year, quarter and even the upcoming week so you know where you stand. Additionally, you can improve your receivables by giving incentives to clients who pay you on time, taking deposits from new clients and requiring credit checks for non-cash customers. Applying a few of these tips should help you stay out of the red and in the black.
Small Business Problem #2: Marketing and Advertising
The world of marketing can seem overwhelming when you don't have a marketing degree. And 28 percent of small business owners agreed that marketing and advertising is the second biggest challenge for their small business. But it's crucial to the success of your business or franchise, so how can you prepare yourself to tackle this challenge?
The solution: It's okay if you aren't a whiz when it comes to posting on social media sites like Twitter or Instagram or writing website copy — rest assured, there are plenty of people who are. Seek out their assistance, and don't feel bad doing it. Remember, your specialty is starting and running a successful business, and that is no small feat in itself.
But if you do choose to take on marketing and advertising in-house, make sure to brush up on best practices. Tons of resources exist, such as the marketing news and topics section on Entrepreneur.com, where you can find relevant how-to articles and videos to help you spread the word about your business – and drive new sales. Guidant's own Senior Vice President of Marketing even wrote a comprehensive overview of business marketing in a blog titled "6 Tips for Getting Started in Small Business Marketing" that offers examples of productive marketing strategies business can use to generate sales at minimal cost.
Small Business Problem #3: Managing Your Time
If you've ever felt like the clock was on fast forward, you're not alone. Our survey respondents ranked time management as the third biggest challenge (at 24 percent) of being a small business owner. From constant interruptions, such as emails, phone calls and instant messages, to busy meeting schedules and last-minute deadlines, distractions abound. Not to mention many entrepreneurs end up performing multiple job functions. It's no wonder time is an issue. So what can you do to combat the numerous time drains in your day?
The solution: Take back your time. Books and classes that offer in-depth solutions are plentiful, but a couple of smart strategies can get you started pretty quickly. In an Entrepreneur.com article that differentiates between "clock time" and "real time," the author states that "Time flies or drags depending on what you're doing. Two hours at the Department of Motor Vehicles can feel like 12 years. And yet our 12-year-old children seem to have grown up in only two hours." The point is you want to take that concept into account when planning out your schedule. Start tracking the time you spend accomplishing tasks versus the wasted time on unproductive thoughts or conversations. Then manage your time to eliminate those lost minutes. Many business owners also find it helpful to book time with themselves so they can focus on priority projects, and put up a 'do not disturb sign' to avoid distraction (that includes not answering emails or phone calls). If you need additional tips, the Small Business Administration has created a comprehensive guide to time management, with helpful resources such as worksheets and sample time management plans.
Small Business Problem #4: Performing Administrative Work
Bookkeeping and payroll may not fall at the top of your favorites list, but you will need to make time for them to keep those talented employees around. Approximately 24 percent of small business survey respondents cited administrative work as a real challenge in their daily operations.
The solution: In a similar vein as marketing and advertising, you can (and may want to) hire outside companies or bookkeepers to perform your payroll and bookkeeping duties for you. The author of the article, "Why A Personal Assistant Should Be Every Entrepreneur's First Hire" on Forbes.com agrees, noting you should "spend as much time as possible using your unique strengths on your highest leverage activities." Administrative work likely doesn't fall in this category.
Also, when you're dealing with payroll and bookkeeping, you're dealing with federal and state laws so you need to be vigilant in your work. Hiring an outside resource (or even an internal employee who's an expert) can take the task off your list so you're not wasting time teaching yourself. If you want to get an idea of what's involved in accounting or bookkeeping for a business, the Small Business Administration provides a guide to basic payroll.
Small Business Problem #5: Hiring and Retaining Top Talent
Hiring a few employees is simple, right? It certainly can be – the prospect may interview well and you may quickly and easily settle on a salary that works for everyone. But it can also unravel just as quickly if that employee decides to quit or if you can't seem to fill a particular position.
According to a our State of Small Business survey, 22 percent of business owners found employee recruitment and retention to be a big struggle of owning a business. In a recent blog, staffing firm Robert Half suggests that "employee retention and employee job satisfaction should be high on every organization's list of priorities." Countless reasons exist for employees not wanting to work for you or leaving a job, some of which are in your control and others that are not. But even if you can't change all of the circumstances, you can control how you navigate the situation.
The solution: Whether it's your first or fifth hire, make sure you provide a well-rounded package when it comes to salary and benefits (more on this in the next challenge). You want to be competitive in your industry so you can attract top-notch talent – and keep your current employees content and productive. Robert Half also suggests providing recognition and reward systems such as gift cards or an extra day off as well as fostering teamwork and mentorship programs and promoting a culture of work-life balance within the company. Promote from within whenever possible (and appropriate), and cultivate open communication between yourself and your employees.
Small Business Problem #6: Providing and Managing Benefits
Ah, benefits – everyone needs them, but who isn't baffled by the details? From medical insurance to paid time off (PTO), the fine print seems endless. That said, benefits are critical to hiring and keeping top talent as we mentioned above, so make sure either you become well acquainted with the rules, or you find someone who can do this for you (a benefits specialist or attorney). It could even become a legal matter if you make an error, so it's important to your business to spend the time and money now to get it right. In fact, about 13 percent of small business owners believe managing and providing benefits to employees is a challenge for their business, so let's look at a solution.
The solution: Find out what types of benefits your employees are eligible for. You can do this with Entrepreneur's "The Basics of Employee Benefits" article. It clearly details which ones are optional and which ones are required. In general, jury duty, military time off and voting are required by law. You'll also need to be prepared to provide retirement and disability benefits and comply with the Family Medical Leave Act (FMLA). As previously mentioned, you may want to bring in either a legal or benefits counsel to help you due to the complex nature of some of these, and because laws also change frequently.
Small Business Problem #7: Navigating State/Federal/Government Regulations
Similar to benefits, red tape rules when it comes to state, federal and government regulations, which are another concern of out small business survey respondents. And these regulations also are subject to change, which you've probably noticed in the news. Additionally, the industry you're in as well as the state you work in will also dictate rules and regulations.
The solution: If you haven't yet decided on the structure of your business, you'll want to do that first. Examples include a Limited Liability Corporation (LLC) or sole proprietorship, and each has its pros and cons, as you'll see in this Entrepreneur.com article. Once that decision is made, Entrepreneur.com's article, "When Starting a Business, Beware All the Taxes and Regulations" should be one of your first stops when trying to get the big picture. Topics covered include federal and state taxes, unemployment, workers' compensation insurance (depending on where you live and work), sales tax if you're selling a product and more.
Now that you've taken a look at these seven challenges of business ownership, remember that they are just possibilities – you may encounter one, two or none at all. So get out there and realize your dream of owning your own business or franchise – you're ready!